This site is about the Big Brother 19 feeds and contains spoilers! It isn't necessarily thorough: it's what I catch and/or what interests me. It's about watching hamsters: who's doing what and why. Thanks for encouraging my behavior.
Your pal, dingo




Protect your online privacy with HMA
Watch Big Brother UK, Survivor New Zealand, Australian Survivor, and other non-USA shows






BB19 DRINKING GAME


Take a swig whenever Matt has a bowl of cereal. Take two when he cackles.







VIEWER VOTES


Nothing currently







VIEWER VOTE WINNERS


#1 Pendant of Protection: Paul
Consequence: Ramses

#2 Ring of Replacement: Christmas
Consequence: Cody, Jason, Jessica

#3 Halting Hex: Jessica
Consequence: Temptation Comp 3 weeks








QUICK LINKS & BOOKMARKS



-Get the feeds
-Watch the feeds
-BB19 official site
-Live show tickets

-Feeds updates by @UGotBronx
-My Twitter - my screencaps
-Amazon portal USA or Canada

East coast air shows:
CanadaTV for Roku
$2/month - Global airs BB USA

East coast air show streams:
1 - 2 - 3 - 4 - 5
NO DOWNLOADS NEEDED - BEWARE OF CLICKING POPUP ADS OR WARNINGS

-Dick at Night with @EvelDick

-BB Viewer by @liquid8d
Requires All Access account

-Hamster Twitters
BB USA - BB Canada

-Advice for cast friends/family

-VPN to watch BB UK and/or to protect your online privacy




Donations via Paypal are gratefully accepted!

Click for weather forecast

Watch Big Brother
Seasons 1 thru 19
Plus tons more CBS content






BIG BROTHER SEASONS



CBS All Access
Seasons 1 thru 19

Amazon DVDs BB4 - BB3

Amazon Instant Video
BB19 - BB18 - BB17
- BB16
- BB15
- BB14
- BB13
- BB12
- BB11
- BB10
- BB9
- BB8
- BB7





BIG BROTHER 19 FEEDS EXCLUSIVELY ON CBS ALL ACCESS
All Big Brother USA seasons + most CBS shows past or present are included
$5.99 PER MONTH INCLUDING 1 WEEK FREE TRIAL or $9.99 AD FREE
COMPUTER - MOBILE - ROKU - CHROMECAST - APPLE TV - ANDROID TV - FIRE TV - XBOX 1/360 - PS4

>> >> >>

>> >> >> >> >> >>

>>

ANY AMAZON.COM PURCHASE CAN BE MADE THROUGH THESE LINKS - NO EXTRA COST TO YOU
Amazon USA
- Amazon Canada
July 13-20, 2017
Power Status
Dominique evicted 10-0

Battle Back results:
Round 1 - all four evictees competed - Dominique, Jillian eliminated
Round 2 - Cameron vs Cody - Cameron eliminated
Round 3 - Cody vs Paul - Cody revived

Jessica is Head of Household
Jessica won veto/did not use
Josh, Ramses are nominated
Kevin, Mark, Paul plus Josh (2nd week) are Have-not

Paul's immunity is over
Jessica can halt one of next three evictions
Christmas can opt to play in any one veto comp
Raven has a Have-not pass


Upcoming Events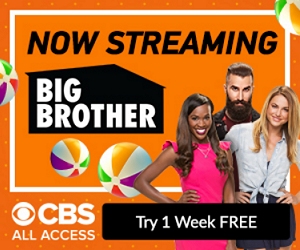 FEEDS ARE A FUN, HOT MESS and they are the real show - sign up now and get a one-week free trial

Tuesday: Snapchat goggles/picture-taking


Next Shows
Wednesday 7/26 8pm Veto comp, veto meeting
Thursday 7/27 9pm Temptation #3 consequence reveal, live eviction (or not)

CBS schedule is Sundays 8pm, Wednesdays 8pm, live eviction Thursdays 9pm, on CBS (Global in Canada). Stream links to watch live online are posted in Quick Links & Bookmarks on the left sidebar. After Dark is every night on Pop (Slice in Canada) - times vary by area and provider.

After Dark is every night on Pop (Slice in Canada) - times vary by area and provider


Other News and Weekly Stats
First evictees have been released back into the wild. Twitters for Cameron, Megan, Jillian, Dominique are at the bottom of this page, and other social media links in their cast folders at Hamsterwatch Forum

Big Brother Canada will return for its sixth season in 2018, saved by popular demand

Real-time feeds updates and air show recaps are at Hamsterwatch Forum by @UGotBronx, plus cast bios/photos/links, and fun extras

Diary segment tallies by @clamperls: Through third week

Alliance charts by @89razorskate20: Day 32 - Day 36

Ratings Watch Thursday 7/30 eviction show won the hour with 1.8 rating, 7 share, 5.88 million viewers, ahead of The Wall on NBC with 1.1/4/5.02, Battle of the Network Stars on ABC with 0.7/3/2.54, and Love Connection on FOX with 0.7/3/2.33.

Friday's Battle Back show won the hour with 1.4 rating, 7 share, 5.42 million viewers, ahead of America's Got Talent rerun on NBC with 0.8/4/4.45, Disney's Descendants 2 movie on ABC with 0.4/2/1.72, and Masterchef rerun on FOX with 0.4/2/1.52.

Sunday's show won the hour with 1.8 rating, 7 share, 6.05 million viewers, ahead of Celebrity Family Feud on ABC with 1.1/5/6.09, NASCAR overrun on NBC with 1.1/5/5.92, and The Simpsons and Family Guy reruns on FOX with 0.5/2/1.24 and 0.6/3/1.36 respectively.

Wednesday's veto show won the hour with 1.7 rating, 8 share, 6.29 million viewers, ahead of Masterchef on FOX with 1.0/4/3.45, Little Big Shots: Forever Young finale on NBC with 0.8/4/5.69, and The Goldbergs and Speechless reruns on ABC with 0.6/3/2.89 and 0.5/2/2.43 respectively.
Rating and share: adults 18-49 - Rating: percent of all TV households - Share: percent of households watching TV



Week 4 - Days 30 thru 37 - July 20 thru 27, 2017
Daily and Noteworthy Events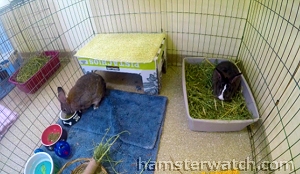 Evicted: Dominique 10-0
Revived: Cody
Head of Household: Jessica
Have-nots: Kevin, Mark, Paul plus Josh (2nd week)
Have-not Extension: Mark
Original noms: Josh, Ramses
Veto winner/outcome: Jessica/not used
Final noms: Josh, Ramses
Evicted: Ramses 7-3

Viewer vote #3: Halting Hex: Who should be able to halt/void one of the next four evictions? Jessica
Consequence: TBA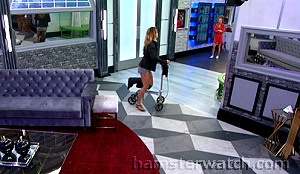 Day 30 Thursday 7/20 Christmas got a scooter to putt around with, likely as a result of her bacon grease slip and fall yesterday. Paul went around floating the idea of booting Jessica rather than Dominique (I know, after all that), continued from last night. Maybe that was to plant anti-Jessica seeds for going forward, or maybe "by request" to set up a cliffhanger for tonight's show, who knows.

Feeds went down just before 11am and will remain off until after Friday's Battle Back show airs in the west, same as last year. We have new kitties as well as bunnies now, all adoptable from Rancho Coastal Humane Society.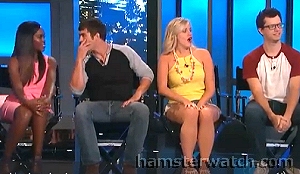 Jessica received the third and final temptation, the option to halt one of the next four evictions during the live show. She didn't use it tonight, and Dominique was evicted unanimously. She and the previous three evictees were trotted out for Julie to drop some cryptic hints about Battle Back. Cody and Dominique got to psst-pssting right away, and Jillian did her shockface again. Julie told us the consequence for Halting Hex would be revealed on next Thursday's show.

Feeds should be on fire when they return Friday night - sign up now to watch it play out! And catch up whatever you missed with my previous Hamsterwatch episode and/or Hamsterwatch Forum real-time updates by @UGotBronx.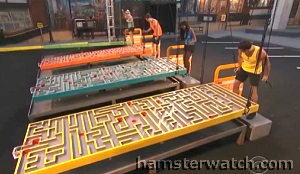 Day 31 Friday 7/21 Battle Back show aired with all four evictees competing in Round 1, Maze Race, where they had to use ropes & pulleys to tilt a maze board and roll a ball to the finish cup. Cody finished first, followed by Cameron, so they advanced to the next round and Dominique and Jillian were eliminated. Round 2 was Billboard Bashers, where they had to sling-launch balls into billboards and knock out 10 panels. Cody won that, and Cameron was eliminated, but he trended USA on Twitter before we lost him for good.

House hamsters voted who should compete against the unknown-to-them Battle Back winner, and they all voted Paul (except himself - he voted Alex). Cody got to choose whether to play a slightly altered Round 1 or Round 2 game, and he selected Maze Race, which had a different maze. If Paul won, Cody would go home but Cody won, so he was revived.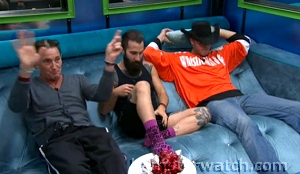 Feeds came back to Jessica as HOH, re-smooching with Cody, and saying they won't share her HOH goodies, Elena talking about blow jobs, Josh and Ramses on the block, Christmas and Paul pushing for Ramses to go, and Josh talking to us about loyalty. Their HOH comp was holding something up with a long sword, similar to the comp introduced in OTT.

Paul revived Friendship Chats now that Dominique's show has been cancelled, with Kevin and Jason replacing his former cohorts Jozea and Victor. Elena joined them, and later so did Mark, Christmas, Alex, and Cody & Jessica.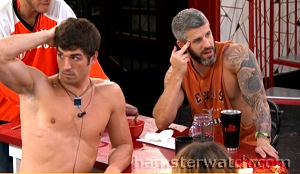 There were some whisperings about a plan that got out that shouldn't have, and changing the plan, but I don't know what that was about - maybe Josh being a pawn to either boot Ramses or to put up Paul as renom. It's pretty much moot for now until they have a veto winner, and then we'll see where we stand. Ramses acted as carefree as ever, and seemed to be unaware of any actual plans targeting him. Jason had a moment missing his wife and son, and Josh gave him a hug.

Jason finally got off his two weeks of slop and he, Mark, Ramses enjoyed a midnight feast along with most of the others. Christmas and Kevin had quite a few whisper sessions about various others, but I think most of that was subtle feeling-out. While both of them are pretty good at planting subliminal seeds, I don't think either is very receptive to them.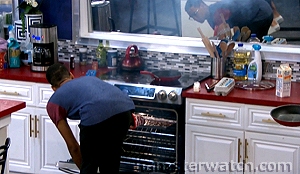 Day 32 Saturday 7/22 Ramses made perfect eggs for most of them without incident, but he set off another greasy smoke bomb when he forgot to watch a tray of bacon under the broiler. Much more of this and he'll get his own tally category. Raven got her foot stitches out. Jason told Cody he had voted to evict him, and they figured out Christmas was probably the mystery vote.

Christmas, Cody, Jason were picked to play veto, and Ramses asked Christmas if she'd use it on him should she win. She said she couldn't promise anything yet, she wouldn't want to go against any plans Jessica had, she didn't even know if it'll be something she can play, and Ramses would probably be safe regardless. Christmas also worked on Matt and Raven for awhile, suggesting hope that Mark be backdoored, and lowkey shading Elena.

Jessica pulled Alex aside and said while there might be bigger targets in there, she needs Josh to go because he's "too much of a wildcard" and he's "throwing off her equilibrium." Cody and Mark buddied up, with Mark fibbing that he was happy to see Cody come through the smoke door at the Battle Back.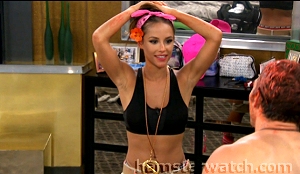 Jessica won the veto comp, which was the one that shoots paint/glitter bombs into the face for wrong answers about color sequences. Feeds were down less than two hours, and they came back to much swaggering in HOH, and Paul talking about playing in this comp last year.

Josh talked to us again, saying he's going to pretend to be mopey and defeated until the votes are read on Thursday (to keep him), and then he'll go off. Later he asked Paul if he could go off after the veto meeting but Paul said no, wait til Thursday, as Paul was working to orchestrate Ramses to go 7-3. Christmas's foot wrap didn't work in her post-comp shower and she dried her cast with a hair dryer. Alex hid in a trash bag in the pantry and jumped out to scare whoever Kevin and Jason could lure in.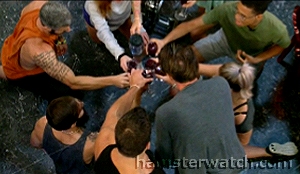 They had a booze delivery, the first of the season other than move-in champagne and 4th of July party, neither of which was on feeds. Kevin and Ramses each chugged a beer in the pantry, and the rest of the beers and wine went into a bucket of sangria. Jessica & Cody went upstairs to drink her HOH beers, and were joined by Mark and Elena. Kevin went into full story mode, and it was good.

The backyard finally opened so they played pool, and even Cody and Jessica joined and socialized. Elena hung on and petted Paul some more, making Mark visibly upset, but she went back to him at bedtime. Matt & Raven had a hammock dump followed by a baby powder war, and Paul & Jason had a prank war of their own. Josh played up his mopey role, and whispering carried on everywhere, like it does.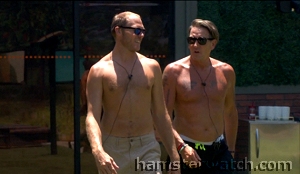 Day 33 Sunday 7/23 On Kevin and Jason's walkabout today they talked about Paul's "dictatorship" versus Cody going after "the weak guys," as well as Raven's illness(es) and whether she's using that, and Cody's highly detailed war story of the previous night with its "forgotten" ending - Jason said he'd seen the same scene in a movie.

Gossip among the others raged on unchecked too, including Cody & Jessica wondering about Matt & Raven's curious relationship.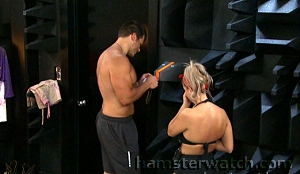 Jessica assigned the first drops in the HOH comp to be Have-nots: Kevin, Mark, Paul, plus Josh for his second week. Mark went for the double-or-nothing but didn't tell anyone but Elena he was doing so. When he lost, earning a second week of slop, he told some of them he wasn't going to take the risk but then fessed up and told them he had risked it and lost. Paul wasn't feeling well but he rallied enough to have a chummy chat with Cody & Jessica, and then made some further rounds with the rest of them.

Ramses asked Jessica if she's using her veto and she said probaby not, but if after talking to people she said she would if she senses he's in danger. She talked to Cody and said she was worried people were lying to her, and she was considering replacing Ramses with Alex. He told her to leave things as they are. Jessica talked to Elena, who swore she'll evict Josh and that Mark and Paul will too. Cody again said she should leave the noms as they are.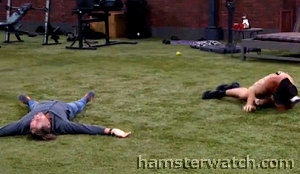 Raven gave Matt a ballet lesson as a result of a bet over her getting the last temptation. Christmas got upset that Ramses jumped her spot in the laundry line while she was napping. That may or may not have beyond-laundry repercussions. Paul did a play chokehold on Raven in the kitchen, and she flipped him over her shoulder to the floor. Cody and Jessica got busy in HOH, aware of the cameras but going for it anyway.

Kevin scratched at pool with Jason, then sprinted the yard at full speed before falling flat on the ground, with Jason in hysterics next to him because Kevin said a bee flew up his pants and stung him. Josh donned his blanket and sunglasses in the lounge, calling them his "BB starter kit," and talked to the cameras for awhile, while the other camera was trolling him from behind. He kept that up off and on for a few hours, tossing out a couple winning lines along the way.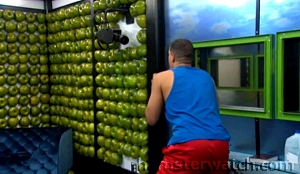 Cody told Mark that Jessica trusts and listens to Elena, and said he thinks Elena's a closet genius. Mark told Cody she's the kind of girl he normally avoids, and said she's just like his ex. Cody suggested a double date tomorrow with Jessica, Mark, Elena and they thought it was a great idea.

Alex beat on Jason with her HOH comp nightstick and Josh dragged him across the floor, causing much shouting. Matt chased Raven with a hot dog and said he rubbed it all over her, causing much screeching and yet another kitchen fight between them. Christmas encouraged Ramses to touch Raven with a hot dog, and he did, causing more screeching. Campaigning may have been a better idea, but oh well.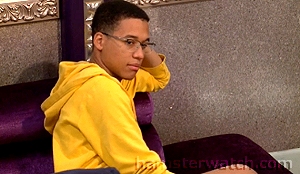 Day 34 Monday 7/24 Ramses didn't talk to Jessica again this morning, and she did not use her veto. Christmas and Jessica had a fake-smile chat after the veto meeting, Christmas congratulating her on a successful week, and saying she'd like to give Josh a sympathy vote so it's not unanimous against him (fake: as of now, Ramses is going).

Josh celebrated in Have-not room, where Paul told him not to act so happy. Josh told Kevin he can't wait to mouth off at the vote-read on Thursday, and then he went to his telethon lounge to celebrate and tell us he gave the most depressing speech of his life. He could hardly contain his joy, rolling around on the giant sofa, saying "Jessica, you fucked yourself." Of course he still doesn't know about Jessica's Hex.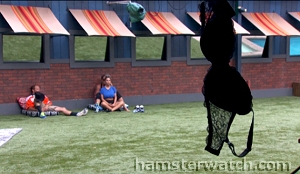 Ramses put on Matt's orange rag-shirt and shorts for the first of two days as the result of a lost pool bet. Matt pulled out another blue one for himself. Elena, Raven, Paul did some handstands, cartwheels and walkovers in the backyard, Elena doing them best, before BB said "stop that" but they went back to it. Raven was doing the jump-to-feet-from-laying-flat move that Jason also did the other night. Cody went out to try it and was successful, but he hurt his neck. They had a few sprinkles and spied a rainbow.

Jessica told Ramses if anyone approaches him to suggest a Josh pity vote (which Christmas already had, and made it sound like Jessica's idea), he should say no, he feels comfortable, because Jessica wants Josh to go unanimously. It's only Monday, but another Cody/Jessica blindside on Thursday when Ramses is evicted is still probable at this point.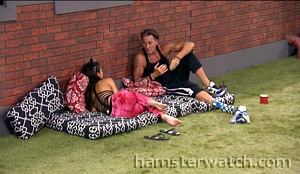 Jessica told Kevin she got the last temptation, but she was vague and misleading about what it was for, and she exaggerated, which apparently she decided with Cody to do earlier. She told Kevin nobody else knew she had it, and she said she can inflict punishment on whoever puts her up, and "I can pick whoever I want at any point in time" among other things, making it sound like a coup d'etat. Kevin made light of it, griping how all the pretty girls got the temptations, but he later hinted to both Jason and Paul that Cody & Jessica were acting too comfortable.

Raven and Paul each told (one-upped) airport security stories, and then Raven talked at length about her illnesses again to a large group at the hot tub. Whispering kicked off all over town, with panic about Thursday's vote, with Paul, Alex, Christmas all revving into overdrive even though nothing had changed (that I was aware of anyway). Alex lectured Josh that he'd been acting too happy and he needs to keep up the misery act. Later Christmas told Josh he should be okay but he needs to act surprised on Thursday, and that maybe they can stage a fight before then.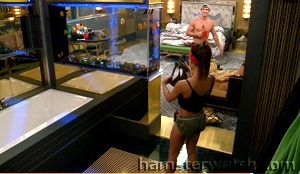 Day 35 Tuesday 7/25 Jessica wrote her blog and tweets, and the Snapchat goggles came out. She said Diary told her to "not allow everyone to get too rowdy like they did the last two times" the goggles came out. She also told Cody she'd requested birth control pills, which she hadn't brought with her since she "didn't anticipate needing it, and then you came along, literally." She said Diary staff was cool about it, and that condoms had been left in the pantry for him to "do his part" in the meantime.

Kevin continued dropping hints and planting seeds about the HOH couple being too happy and too comfortable, and something had to be up with that. I'm pretty sure he was alluding to the temptation he knows Jessica got, and not the above. Matt and Raven continued their wrestling or whatever it is - he strangled her with a dirty towel after she made French toast for breakfast.


Low key campaigning carried on here and there - well, actually more paranoia and vote affirmations (and lies) than campaigning, along with plans for next week that will probably change 100 times by then. Bitching about slop and Have-not beds also carried on, like it does.

Paul and Kevin discussed how most of the other guys don't seem to be doing much either in the game or for the show. Paul said he was the entertainment last season but he's had to play a quiet game this time (yep, he said that). They also discussed Raven's illness(es) and commented how most of the girls hadn't been Have-not while some of the guys have repeated. Paul told Matt & Raven that he told Elena he'd never put up Raven because she pulls on his heartstrings, and that Mark said "that's stupid, it's a game," heavily implying to them that Mark (and maybe Elena) were gunning for them. Later Raven described her funeral plans to Matt, and later to Elena and Christmas - her real funeral, not BB. Ramses asked Paul about his vote and Paul told him he's good, just lay low, and "two more days and you're fuckin over it" (ouch).


Josh drank a new round of lost bet pickle juice and hot sauce without incident, if you don't count the gagging and puking parts. Later his telethon took a hilarious turn when he started talking to the stuffed After Dark owl Orwell. He gave a tour of his padded room, said he's counted the apples, described his isolation, and he's tired of acting miserable when he's not. He also said he's not sure if he's safe or if this is all a big con (as of now, he's safe). He started talking Orwell to the camera and talking him like a ventriloquist, letting Orwell do the insults, and pimping out the little owl. I don't like to use the word amazing because it's so overused, but this was amazing, and hilarious - Flashback 7/25 7.40pm.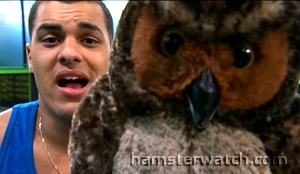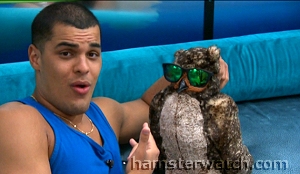 Along the way, Mark demonstrated the backyard rope apparatus, jumping as he pumped the ropes, making everyone out there bust out laughing. Jason and Alex talked about Amish and Mennonite people at length to Paul, who didn't know they existed. Jessica told Cody "no lying," presumably about her temptation and the fibs she was saying and misleading to Kevin yesterday, since BB told her she's not allowed to talk about production after she said "no lying" - twice.

Late night brought the usual making out, wrestling, screeching, food throwing, and blanket pulling that we've come to expect from this dysfunctional summer camp, along with the usual psst-pssting here and there. The blindside planned for Thursday is still a go as of now, with Cody & Jessica expecting Josh to go when Ramses will actually be the one meeting Julie, and then the game will really start.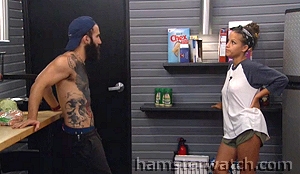 Day 36 Wednesday 7/26 In the News You Didn't Need and that I couldn't bear to post at the time department, Matt & Raven got busy undercovers last night, complete with thumb up to the camera. Afterwards, Matt got up and cleaned the kitchen (nice!), then went to the bathroom and wiped down his belly with the same towel (cancel that nice!), then went back to more kitchen cleaning. By the way, Matt had his Precious (the orange shirt/rag) back from Ramses today.

Also today, Paul and Jessica met in the pantry where they played several rounds of bait 'n switch regarding the temptation and related curse, as well as what should happen tomorrow. She reaffirmed that she wants Josh to go, and Paul reaffirmed that he probably will, but he also added a few "it's Big Brother, anything could happen" caveats. Meanwhile Cody talked with Mark, who told him that he, Elena, Paul are working together. Cody reported later to Jessica that was a valuable tidbit that Mark had been stupid to give up. They really have no clue what's coming, and here's hoping it stays that way, at least for popcorn manufacturers and those of us on Team Fun Feeds.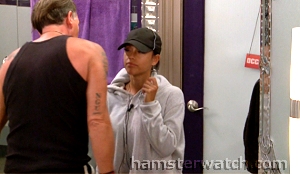 Kevin pulled Jessica aside (into the toilet stall actually) to tell her he wasn't positive Josh was going, that there might be a plan underway to flip the vote. She immediately told Cody of course, and questioned Elena, and Cody questioned Jason and Alex, and question/retell rounds ensued all over town. So our blindside is now off, but we definitely have paranoia in overdrive, and we may still get some fireworks and drama.. here's hoping.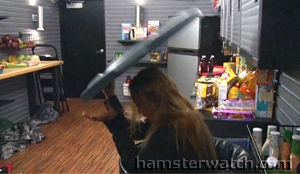 Josh began his nightly lounge telethon with a Cody rant, including stomping/frowning impersonations and saying he wished he'd never come back and that his new personality stinks like the original one did. Alex hid in the pantry trashcan to scare Jason, and she tried to arrange a 10pm curfew to prevent overnight vote interrogations - nevermind they all have a summer camp riot every night after midnight. She and Jason knocked a lamp which broke, and Jason picked up Alex's rosary and it fell apart. She screamed at him it came from the Vatican - he said it looked like some dime store thing.

They had an HOH lockdown to remove the lamp, and psst-pssting raged on. Shortly after, they had detailed photos or videos to watch, presumably for tomorrow's HOH comp, and they broke up into study groups to cram. Josh knocked down Mark's Have-not bed and many pillows and denied it. Mark shouted a bit and Josh shouted a bit, but that didn't develop further. Studying and rage-whispering carried on and on, like it does.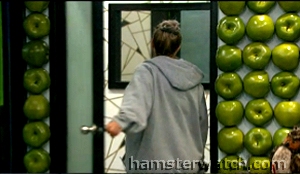 Cody and Jessica put the HOH shower to use, together (nekkid), then cuddled in bed, muttering sweet nothings at each other. Paul and Elena had a talk where he more or less cautioned her about getting too close to Cody & Jessica (reminder, Jessica told Paul recently that she trusts Elena). Much later, Mark and Elena had a serious Relationship Talk that went wrong a hundred different ways - Flashback 7/27 12.58am - including a lounge door slam by Elena that shook the camera. They went a few more dysfunctional rounds after that - under normal circumstances (with normal people) it would have been a breakup convo but this is Big Brother, so no telling where they'll be after this.

I am disappointed that our Thursday live show blindside won't be a total surprise, but the vote will likely remain the same and Ramses will go anyway. I can't really hold it against Kevin because reminder, the other day he referred to Paul as a "dictatorship." He's the only one who's said that out loud while the rest of them line up for Paul in neat little rows like Babe the pig's sheep, but now Kevin's done something about it. I think Christmas feels the same about Paul but she's not ready to do anything about it - yet. Stock up on popcorn!



Ratings - Problematic edition
Ratings are based on entertainment value




Everything about this season is problematic, from the one vet dynamic and related three weeks safety to the multiple showmances, injuries, and goofs tally. And let's not even mention the state of the fanbase. Personally, it's always easier for me whenever someone's evicted, but then they revive and now we're over a month in and we still have 13 of them. Uncle! Therefore, three-word ratings this week.





Won: 1st eviction safety
HOH 1 - Veto 1 - Noms 2
No vote (HOH)
Mouthy
Energetic
Erratic





Won: Temptation #2 play in any veto comp
HOH 0 - Veto 0 - Noms 2
VTE Dominique
Medicated
Manipulative
Exhausting





Won: 1st eviction safety; 1 week frog; Revival
HOH 1 - Veto 0 - Noms 1
REVIVED
Arrogant
Angry
Shallow





Won: 1st eviction safety
HOH 0 - Veto 0 - Noms 0
VTE Dominique
Randy
Over-explicit
Insecure





Won: 1st eviction safety; 1 week frog
HOH 0 - Veto 1 - Noms 0
VTE Dominique
Explosive
Unpredictable
Error-prone





Won: 1st eviction safety; 1 week frog; Temptation #3 halt one of four evictions
HOH 1 - Veto 1 - Noms 1
No vote (nominee)
HEAD OF HOUSEHOLD
WON VETO/DID NOT USE
Conceited
Bright
Oblivious





Won: 1st & 2nd eviction safety
HOH 0 - Veto 0 - Noms 2
VTE Dominique
NOMINATED
Awkward
Emotional
Impulsive





Won: $25,027; 1st eviction safety; couldn't be 1st HOH
HOH 0 - Veto 0 - Noms 0
VTE Dominique
Hilarious
Sly
Savvy





Won: 1st eviction safety
HOH 0 - Veto 0 - Noms 0
VTE Dominique
Lumbering
Naive
Angry





Won: 1st eviction safety
HOH 0 - Veto 0 - Noms 0
VTE Dominique
Absent
Wallpaper
Cackling





Won: 1st week safety; Temptation #1 safety next 3 evictions
HOH 1 - Veto 1 - Noms 0
VTE Dominique
Overbearing
Loud
One-upper





Won: 1st eviction safety; Mandatory nominee once
HOH 0 - Veto 0 - Noms 2
VTE Dominique
NOMINATED
Unaware
Innocent
Pleasant





Won: 1st eviction safety; Have-not pass
HOH 0 - Veto 0 - Noms 0
VTE Dominique
Ill?
Screechy
Extra





Won: 1st eviction safety
HOH 0 - Veto 0 - Noms 1
EVICTED 10-0
She seemed promising, brainier than most hamsters by far, and she started out well. She earned Mark's devotion over fake chess games and heart-to-hearts, but Christmas and Elena also tugged at him from different directions, and Dominique never got as tight a hold on Josh. Kevin let her host the talk shows, but she was too slick and professional with them, and kind of a drip. That backfired when she put Ramses and then Cody on the spot, and she confessed her job lie to several too early. She brought in more religion than most, and she 'marooned' herself in the lounge, doing a solo telethon for days. She caught on to Paul and told everyone he was a snake, and he made sure she went out the door as a result.





Won: Nothing
HOH 0 - Veto 0 - Noms 2
She gave us a good shockface when Julie spoke her fate, but she hadn't done much to prevent it. She wasn't there long enough to do a lot, but she didn't really do much that was memorable except repeat convos (at lightspeed), plan future shows to be on, and be on the block. Virtually everyone else campaigned their brains out around her while she was at summer camp, so it's no surprise she didn't know who did and didn't vote for her. She wasn't cut out for this game and she also attracted some political attention that nobody needs. Many use BB to escape from that kind of thing for a little while.





Won: 1st eviction safety
HOH 0 - Veto 0 - Noms 1
Like Cameron, there isn't much to say since she left before feeds began. A lot of drama was stirred up by, around, and/or because of her, including a Josh rant we saw on the premiere sans context, and an alleged sabotage lie about a comment Jessica allegedly made about Alex. When Megan got home, she released a statement saying she left because of PTSD from a prior assault. You'd think those things would be discovered and addressed during the lengthy audition process, but who knows? We may never know the entire true story as we'll only have hearsay and edits to go by, but I wish her well.





Won: Nothing
HOH 0 - Veto 0 - Noms 1
What is there to say when they're gone before feeds start, other than it stinks? They were probably wise to get him out because he's a big fan who knows the show, and he's brainy to boot. At least he had not one but two comp-shots to save himself, even though he opted for a third comp to evict rather than the vote that got him the non-coveted first boot spot. He seemed likable enough and he tried some twerkish moves to save himself but alas, it wasn't enough. He dropped a hamster line in Diary which was fun, but anyone going before feeds still stinks.






Lines and Links of the Day
Lines

Friday
Matt: I'm still trying to determine if there is such a thing as good game or not

Saturday
Josh: This experience is like the Breakfast Club

Matt to Raven, who didn't finish her breakfast: Did you not know you had those diseases coming into this meal?

Raven: I wanted to play in the veto
Matt: You just got done telling me how bad you felt today

Jason: I had a pet squirrel named Clutch, he was bad ass

Mark about the condiments fight: I'm still not understanding how I'm the one to blame

Josh: So after she doesn't use it, can I -- ?
Paul: No! Shut the fuck up
Josh: I have to lay low til Thursday?
Paul: Yes

Paul to Matt/Raven: I'm not gonna go home because I can beat Cody in a competition, and I know that for other reasons that I have not disclosed

Sunday
Matt to Raven: You look like you belong in an institution

Cody to Jessica: How did they not catch that I gave a shoutout to my daughter?

Kevin: A bee goes up my leg, into my underwear, running around with my fuckin decoder.. oh by the way I scratched

Mark to Cody about Elena: She's the type of girl I stay away from, she's identical to my fuckin ex, it's driving me crazy, it's their way or no way, it's fuckin scary

Josh to us: Cody walks in here with a new personality, who is this kid, a stunt double?

Monday
Raven: My gastroparesis is acting up
Paul: What is gastroparesis? I'm fucking kidding! It's a placebo disease

Big Brother: Matt, please go to the Diary Room
Kevin: Damn, I never hear them call Matt to the Diary Room
Paul: I don't even think Matt's on the show

Kevin about the rainbow: Don't get too excited, Cody - hey Paul, Instagram that

Alex: After meeting you, I hate clowns, I have malicious thoughts about them now
Jason: What?
Alex: I said good night Jason

Tuesday
Kevin to Paul: No one's said anything to me but [Jessica]'s got something, she's too happy, too confident, she got the fucking thing

Paul to Kevin: I did all the entertainment shit on my season but this time I came here to play a more quiet game, because I have to

Christmas: Ow! Ow! I ran over my own toe

Wednesday
Cody on the show: Jess, save your hair

Jessica HOH tweet: Sorry for Cody's awful social skills. We're working on them.

Feeds highlight title: Matt uses dish towel to scrub his stomach

Kevin: Who'd wear those pants, raise your hand
Paul: I'd wear them
Kevin: Paul, you wear fuckin underwear around!

Kevin: What the fuck Paul, a train doesn't mean you have to get behind somebody and hump them!

Josh telethon re Cody: You got a new personality on Ebay, on Amazon - you got a 30 day warranty, send it the fuck back

Elena: When does Ramses raise his voice?
Mark: Just 'cause he does it in a gay little scream, he raises his voice



Links

GET YOUR FEEDS

Use my links for any Amazon shopping, anytime, at no extra cost - just start your shopping trip by clicking Amazon USA or Amazon Canada

BB19 sleigh ride by @RachBBCAN

OTB Presents Big Brother Weekly #1 with Skoch and McCrae

Weekly QA with Allison Grodner by Matt Carter




Tally Items
Extracurricular Tally

Fights: 5
6/29 Premiere #2: Josh vs Megan
7/6 live show: Jessica vs Christmas
7/6 HOH comp: Josh vs Cody (not on feeds or show)
7/6 10.10pm: Jessica vs Josh, plus Cody
7/17 3.30pm: Josh vs Mark, Josh vs Jessica, Dominique vs Christmas

Revivals: 1
Cody

House meetings: 2
7/15 5.46am
7/17 4.21pm

Pinkyswears: 2
Raven and Paul on premiere
Raven and Matt 7/11 7.56pm

Makeout pairings: 3
Cody/Jessica, Mark/Elena, Matt/Raven

Sex events: 4
7/2 3.12am Cody, Jessica
7/6 3.25am Mark, Elena
7/11 2.44pm Mark, Elena
7/26 1.00am Raven, Matt

Injuries: 3
Mark's dislocated finger in 1st HOH comp
Christmas's broken foot
Raven's stair crash and foot stitches

Better alternatives to Jeffish: 1
Kittycam featuring Rancho Coastal Humane Society adoptables

Premature (pre-feeds) evictions: 2
Cameron, Megan

Pre-season makeover and photo replacement: 1
Megan

Epic Twitter battles: 2
6/19 Dr Will vs Meech, plus BB18 Natalie, BB14 Danielle, Russell Hantz
6/22 Evel Dick vs James Huling



CBS Goofs

1 Misspelled 'Hitmen'
2 Pop mixed up BB seasons with AD seasons
3 Mistook USA for 'the world'
4 To/too error
5 Too many seasons for Frank
6 Conflicting Christmas ages
7 Pop had a midnight/day problem
8 Misspelled Raven
9 Random things in bikini photos
10 'An New Season'
11 Photoshoot spoilers
12 Leaked two upcoming votes
13 This season is 92 days, not 99
14 Thumbnail on feeds slider shows BB18
15 Misspelled 'receive' on tickets site
16 Misspelled 'replacement' on YouTube
17 Control room monitors on 7/6 live show
18 Day count error on 7/9 show
19 Misspelled 'drinkware'
20 Misspelled Nicole's last name
21 Misspelled Josh's last name
22 Misspelled Ramses
23 Let Jessica into DR when Kevin was there
24 Feeds timestamp 3+ hours wrong
25 Counting error on 7/20 show
26 Listed five, called it six



Season Stats
HOHs in order: Cody; Paul; Alex; Jessica

Veto winners in order: Alex; Paul; Jason; Jessica

Evictions in order: Cameron 8-3-2; Megan (quit); Jillian 8-4;

Cody 7-3-0

; Dominique 10-0

Pre-jury Twitters: @CameronHeard210; @MeganAnnBB19; @jilliannicoleww; @CDmAI







Linking to any page here is fine. Please don't repost content from this site (or any other) without permission, and don't repost or hotlink images.



THE REAL SHOW IS THE FEEDS


NEXT-DAY AIR SHOWS
Live air shows in some areas
BB1 thru BB19 and many other CBS shows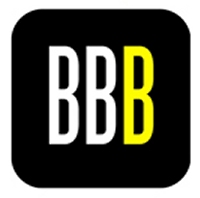 BIG BROTHER BUDDY
Get push notifications for all the big feeds events - iOS or Android


HAMSTERWATCH SWAG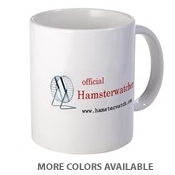 Mugs, shirts, more
Visit my Cafe Press shop






Big Brother 19 SEASON FAQ


Day 1 Move-in was June 21
Day 8 CBS premiere is June 28
Day 9 Feeds begin June 29
Day 92 Finale is September 20

Feeds are streamed by CBS, and Flashback is accessible via All Access subscription. Call 888-274-5343 for account help, including cancellation.

Air shows on CBS (Global in Canada) are Sundays 8pm, Wednesdays 8pm, eviction Thursdays 9pm.

Big Brother After Dark on Pop TV (Slice in Canada) is every night midnight to 3am, except Thursdays 1am to 3am. The aired blocks are live (or recorded earlier the same night, depending on your cable provider).

The CBS app (by CBS Interactive) plays BB air shows and other CBS shows, as well as feeds, or you can use your browser to watch feeds on mobile devices. The same All Access link used to subscribe will lead to the feeds viewing page if you're already signed up.

BB19 prizes are the same: $500k for the winner and $50k for 2nd place. Stipend for the others is $1,000 per week again, including pre-show hotel and jury sequester. Paul is probably getting more, and possibly Christmas as well.

The habitat has 87 HD cameras and over 100 microphones.

The recorded in-house announcements are the voice of producer Don Wollman. He and Julie Chen are the only staffers who have been there since Big Brother 1.