This site is about the Big Brother 11 feeds and contains spoilers! It isn't necessarily thorough: it's what I catch and/or what interests me. It also isn't necessarily about who will win, who should win, who's cute or who's horrid. It's about watching hamsters: who's doing what and why, who's fun and who's dull. If they aren't entertaining, get rid of 'em! Thanks for encouraging my behavior.






-->






BB11 DRINKING GAMES


Now's the time to stock up your fridge, wine cellar and/or booze cabinet - the games begin soon!



Donations are gratefully accepted through Paypal using the button above or direct by email. Please support other Big Brother sites that you like, too. Many thanks!







UPCOMING EVENTS


Hamsters are now in hotel sequester and will move into the habitat sometime this week.

The premiere is July 9. The feeds might kick on at 9pm PT/midnight ET that night, but more likely at midnight Pacific/3am Eastern.







FAQ


Ads are announcing 12 strangers, and rumors are saying the dreaded twist will involve teams of Haves versus Have-nots, and/or teams sorted by high school 'social types' labels.

Promises of a 'green' habitat have apparently been grossly exaggerated: they still have the washer & dryer (rats!) not to mention tons of TV lights, but they did get recycling bins.

Feeds will have new replay options as well as the ability to select a date & time to see what you missed - or to rewatch what you just can't believe and have to see again!








-->
Pre-season - June 2009


>> past >> present >> future >> all

>>

Nobody is Head of Household - Nobody is nominated

<<

>> Tweeting Big Brother since BB8! click to follow



This just in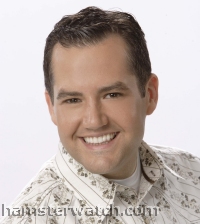 Everybody's favorite former intern and Celebrity Fit Clubber Ross Mathews - a Hamsterwatcher - has announced that he'll be hosting a weekly edition of Housecalls this season

Ross has been working at "The Insider" lately and doing daily web shows.. his fun style and goofy, friendly personality will be a much needed boost to Housecalls, and even if the cast and twists turn out to be horrible, this is great news for fans of Big Brother.. now, if only I can get my computer to play it

The cast will probably be announced on Wednesday.. stay tuned



Cans, bottles and maternity tops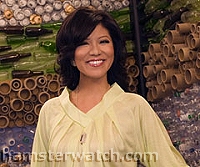 Last week was "Media Day" in the habitat, in which various journalists did a one day run-through to test cameras, mics and other techy stuff, but more importantly to create fodder for PR buzz

Well, their sordid stories are now being released.. as is often the case, B-Side Blog's Ben Mandelker has the only account you'll need to read - which you can do here - some house pics are in the Hamsterwatch forum and videos are on the sidebar.. other notable guest hamsters included BB8 Jen Johnson and Gunther (Chris), the fetish wear dude from "The Late Late Show" - which leads me to believe Craig Ferguson may be doing peek-in segments again this summer

Also this pic has been released, showing a bit of Julie's new wardrobe with a bit of the new house decor - I always like to start off each season by attempting a positive attitude, so I will just say both are "interesting"

Also, word on the street is that there will be "four cliques: jocks, populars, brainiacs, and outcasts".. if cliques = competing teams, that would mean three hamsters on each - or maybe they've just decided to publish the not-so-secret code of their stale casting formula



What we know




Big Brother 11 premieres Thursday, July 9 at 8pm - CBS episodes will air Sundays at 8pm, Tuesdays at 9pm, and live eviction shows Thursdays at 8pm

24/7 feeds will be back on SuperPass


Big Brother After Dark will be back on Showtime

Housecalls

will not

WILL be back, with Ross "The Intern" Mathews!

Julie Chen is pregnant, but has announced she'll stick around for the full season

BB6/7 Janelle Pierzina will join BB8 Evel Dick Donato's weekly SuperPass show

Early Bird feeds signups! SIGN UP NOW
and get the full season for only $29.99! Despite what Julie says, you won't see it all - but you'll see a whole lot more than CBS or Showtime will ever show you.. as always, subscribing to the feeds through links on this site are the best way to support it - thanks!

The CBS site has launched - well, it's mostly just rehash and teasers now.. I especially liked this part about the feeds: "Never Miss a Moment - Don't miss a single fight or showmance moment".. sooo I guess it's going to be another season of them lying to us

I'll be back with daily Hamsterwatch episodes including my patented houseguest ratings, extracurricular tally, links of the day, news, FAQ, and a bad attitude.. Hamsterwatch Chat and Forum will be open for business shortly



Meanwhile, to whom it may concern






Hamsters
Please work at being interesting all the time! Do not sing, do not whisper, and do not be boring! If you lie to another hamster, make sure we know you're doing so! Importantly, if you win a veto comp, be sure to LET US KNOW as comps are not on the feeds! I would say be careful with personal stuff you say or inappropriate stuff you do since we see & hear everything, but that would spoil our fun

Producers
These ads citing "bigger secrets" are worrisome: please, your twists are always stoopid, pointless, and outdated even before the premiere hits the air - if you have interesting hamsters, twists are not necessary! Also, please try to edit the CBS shows from what's actually going on rather than making up some fictionalized version - this is not "The Hills".. PLEASE KEEP FEED BLACKOUTS TO A MINIMUM, and either make them silent or turn down the volume on the damn music.. finally and most importantly, PLEASE DO NOT BE STINGY WITH THE BOOZE! A well-lubricated hamster is a fun hamster (and will give you material to make racy commercials)

Hamsterwatchers
You guys rock! Let's remember to keep it fun and poke fun at those deserving it, and avoid hating on the hamsters - without them and their

stupidity

courage in putting themselves out there for our amusement, we'd have to find something else to do all summer

If you just can't wait til July to get your Big Brother fix, feel free to relive the past here on Hamsterwatch: Big Brother 10 - Big Brother 9 - Big Brother 8 - Big Brother 7 All-Stars - Big Brother 6 - Big Brother 5

See you all soon!
that dingo


Please do not repost any content from this site (or any other) without permission, and do not repost or hotlink to any images
!! THIS MEANS YOU !!

LIMITED TIME OFFER
Use coupon code BB11QTEARLY
and SAVE!

3 day free trial- Quarterly billing






GET TWITTERED! FREE TEXT ALERTS
Get free Hamsterwatch updates to your cell phone! Follow me at my Twitter page or text 'follow hamsterwatch' to 40404 (21212 in Canada). Click for more info.



LINES OF THE DAY

Watch this space for all the 'I can't believe someone would say that!' gems to spew out of their mouths





Click to see my full list of BB11 links
These are some of my favorites:

24/7 feeds - free trial see everything that happens before it gets edited into something else for tv

Hamsterwatch Chatroom

Hamsterwatch Forum

BB9 adult/explicit links - might get updated for bb11 if we have hamsters with naughty pasts

CBS Big Brother 11 the official site

DogDave BB11 aka Aldav scouts all the BB sites so you don't have to: all the news, edgy stuff & the best mini-recaps in town

Attw x's houseguest tributes all seasons fun & reference by BB's number one fan

BuddyTV - Big Brother 11 TV supersite with news, articles, discussions

Sir LinksALot Big Brother 11 all the links, once again






EXTRACURRICULAR TALLY



They'll have to work hard to get up to as much sex & fights as last season, but I have high hopes for them







-->





-->