This site isn't about who should win, who will win, who I'd be friends with, or who is cute. It's about watching hamsters: which ones are doing what and why. Which are fun and which are dull. If they aren't entertaining, get rid of 'em! More to come, bookmark & come back!

.. that dingo
Linkage
Daily feed recaps & opinion ratings navigation tool for this often-biased site
HamsterWatch Big Brother 8 here we go again
HamsterWatch Big Brother 7 Hamster all-stars in the house
HamsterWatch Big Brother 6 time to do it all over again
CBS Big Brother 5 the official site
Housecalls live web show with Marcellas, also archived shows
TV Updates feed updates, screencaps, and fun boards - easy to use and functional!
bb5fan's 30 second refresh screencaps if you don't have feeds (great at work!)
Hollyisms and Cowboyisms and Lisa-isms from me, that dingo person
Sir LinksALot Big Brother 5 all the links
Reality TV Links emphasis on individual hamsters' sites
Aldav has all of the edgier stuff & the best mini-recaps in town (alternate url)

Check out Grins' BB5 Park the best while it lasted - from Jokers
Today's must-click special: You know you're addicted withdrawals begin now - TV Updates
Bonus must-click special: Ebay lunch with Marcellas & a BB producer went for $815
Added must-click special: Karen's drawings of them all on her official site, available to buy





9/21/04 - Day 82, the end

>> to the future >> dwell in the past >> latest



It's a wrap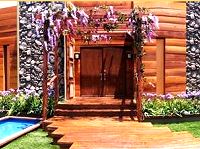 Drew wins 4-3

The site will stay up so we can relive our summer fling anytime.. we made it through!

A few HamsterWatch Greatest Hits of the season follow.. there were so many.. we have to go back in time to see them all

Before all the hoopla today, Drew & Cowboy were understandably a little gloaty, and filled with anticipation and excitement.. they stuck together through vacuuming and they ate PB&J sandwiches before showtime.. just before the final cut to fishies they prayed in the gym, Cowboy mentioned "sitcom" and added "same old shit" after their amen's.. Cowboy brought out Jase's old alliance sign.. and then we had a winner.. Cowboy finally got to kiss April again.. Drew & Diane didn't even hug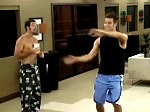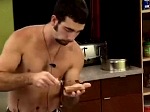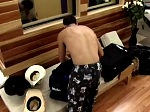 Our finalists had a little convo this morning I found amusing, and representative of how we've come to know each of them..



Drew gets up pre-dawn, has a glass of milk, poops, goes back to bed, waking up Cowboy who goes off to the bathroom.. Drew lets a few farts rip.. Cowboy comes back to bed, tells WAY more info than we want to know about April's sexual appetite again.. Drew laughs and says 'every night would be perfect'.. then this:

Cowboy: I'm about to tell off about myself, after my divorce I went moreless humbug.. I didn't care about holidays, I didn't care for Christmas and it had been my favorite.. I never really cared for Thanksgiving cuz it seems like family's always fighting then.. I hate it most
Drew: What do you fight about?
Cowboy: It seems I get griped up by my sisters about something, every Thanksgiving that I remember, somebody's griping at somebody.. even my last Thanksgiving and I didn't even eat with my family..


Cowboy: I never really cared about Thanksgiving cuz it seems like people get tired of eating the bird, and they get grumpy
Cowboy: Then I started dating April, and moreless being a father, you had to change your attitude all over again and pretend that you like holidays
(Drew laughs)
Cowboy: I'm not lying, I put on a big show, and April's like 'you BETTER enjoy the holidays'.. but we had a good Christmas, we moved in together December 15 and had a good Christmas.. we had Santa Claus at our house, then went over to her family's and had dinner.. So I'm starting to like the holidays more.. but yanno, for me, it's so pagan, the holidays are
Drew: What's that mean?


Cowboy: Pagan holidays, it's not like it used to be, it's about the birth of Jesus and yet we have Christmas presents.. it's not about giving, er it's not about the receiving it's about the giving.. it's like a pagan holiday, like Halloween, that's pagan holiday, and Thanksgiving.. it's more commercial now, it's like 'buy this, buy that' .. it's stress! You go to the grocery store and 50 million people buying milk and eggs cuz it's Christmastime and people are buying presents too!
Drew: That's what's been nice being in here, not being bombarded by advertising all the time
Cowboy: That's your field!
Drew: I know... but some companies do this subliminal advertising, they get inside your head
Cowboy: Like a nekkid lady?
Drew: Yea.. I think the average person is exposed to like 50,000 ads a day.. it's no wonder we can't think for ourselves, we get bombarded all the time
Cowboy: And Christmas is coming!

Remember these innocent faces?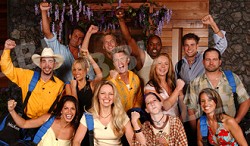 Before we knew how ugly it was all gonna get? I'm going to skip farewells to Drew & Cowboy - they had five days in the spotlight, and plenty of coverage..

Instead, let's go back and remember the happy times.. I didn't monitor the feeds 24/7, I just got lucky a lot
There used to be so many of them! And they laughed.. a lot















Remember how fun they used to be? This pantsing & full monty incident took place a day or two before HamsterWatch started keeping tabs, but it's one of the best:











There were other pantsings too, and new members in the hammock-dump club







Bath buddies forever! Some people didn't get it.. they missed out







There was other odd behavior in and around the bathtub too







Lots of creative tanning out by the pool







Outted birth couples, happy couples, and odd couples







As for our finalists..
Drew wasn't always reserved - he drank from vases, played drunken nekkid pool party, electrocuted dangly bits, and posed with Danielle-style lil devil horns







Cowboy's look changed a lot.. but he was always Cowboy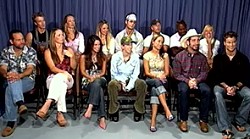 They were a good bunch, as hamsters
go, and it was fun playing with them

Thanks for playing along, fellow HamsterWatchers.. I'll borrow Marvin's words to wish that all your pain be champagne

your pal, dingo

I enjoyed the season and the cast, and reporting on them here.. I sincerely thank everyone who's visited and all those who will

I hope the hamsters visit too.. I wasn't always kind but I tried to be honest, at least as I saw it.. I'm grateful to each of them for sharing themselves with us, and for letting us get to know them

Thanks to Aldav; Grins; KeithX, It's Aawwn, and all updaters, cappers & posters at my summer home TV Updates

Big ups to HamsterWatchers who stuck it out to the bitter end! Thanks for visiting the site, and for encouraging my behavior. You & me to the end!



Finale Tuesday was good tv for compressing three months down to one hour, tossing in suspense, reunions, and some controversy to boot. It was uncharacteristically kind of them to not run Diane's tears 2-3 times as expected, and also to not cast her as the tiebreaker vote, so big ups for both. The live audience wasn't necessary, but as long as they have Amy, Jason, Marcellas, etc. in the crowd why not point them out or at least stick a label on the screen when panning past them? Julie said it's been '82 days of tough competitions, heartache, and triumph' - hardly. That's what the 3 weekly tv hours were, but the 82 days were mostly whispering, eating, pooping, primping, and some highly entertaining escapades that can never be repeated.. more feeds for more reality shows, please! Thanks to all the Big Brother staff for all the fun, especially the cameras & control room, and special thanks to the fishies: the most-watched houseguests and the true winners of the summer.. they never lied to anyone.





Kissed his way to the money, and a lot of nights in HOH room didn't hurt. Easily swayed, equally naive and arrogant; he played both bully and bullied, and never met a mirror he didn't like. He mostly said 'riiiight' and 'that's crazy' but he won and HamsterWatch congratulates him. One tip, Drew: let go of 'I wanted your natural reaction.'





Stranger things have happened, but not many. Our runner-up leaves us a legacy of Cowboyisms along with new vocab words: nervousing, pond, moreless, and actoring, and he gave us the hat trick. His devotion to the lovely April is the true love story of the season.





Her motivation was to win the boy but he dumped her on tv for the money. As tough as she is fragile, feisty & bitchy but pure of heart and never dull. Way smarter than she thinks she is - she earned every penny Drew takes home. Star of the show.





'The Smart One' turned out to have perspective & ethics, and garnered respect for being herself. Overcame ratings-based emotional blackmail and proved that reality tv needs real people.





First out for playing well, but chameleon strategy is better defense than offense. Elevated the game with empathy, Oscar-caliber acting, and right-on-target rants. Most photogenic by far.





Funniest hamster ever. Provided joy, nicknames, dinners, trivia, laughs, insect tributes, golf commentary, and bowling lessons: he's cool & the gang.





Set off the end-game with 'How long you been dating?' Both pulled off Twingate brilliantly, but A's better as a solo act.





They should have kept switching - that house isn't big enough for both of them.





Not quite gay enough for the token gig. I'd like him in real life - but this isn't.





Hamster watching doesn't get better than this guy. Bath buddies forever!





The goon is gone - long live the goon :)





Unique, fun, annoying, ditzy, and oddly vulnerable. Bless her pointy lil head.





This year's Lisa, but without her luck.





Smart or not, he was first out: 'nuff said. Fold your arms and go home.


I need a job. If you like what you see here, please let me know if you've got one for me, thanks.